Its countdown to

October-fest

2009! Club Tourists gathered some of the well-known events in the Philippines. So what are you waiting for?

Get the cheapest fare, pack your stuffs and experience October like never before!


Events listed are chronologically arranged
ZAMBOANGA HERMOSA FESTIVAL


October 1- October 12

| Zamboanga City
Zamboanga La Hermosa Festival or the popurlay known as

Fiesta Pilar

, is held in honor of the miraculous image of

Our Lady of the Pilar at the legendary Fort Pila

. The people of Zamboanga fervently believe that the lady has served as their unifying cultural and historical symbol. In commemoration of her feast day, Zamboanga displays its devotion and enthusiasm with a nine-night procession, fireworks, an ethnic parade, a cultural show, a regatta, and the Miss Zamboanga parade.

WOW DABAW


October 1 - October 15

| Davao City
A major promotional activity showcasing the various tourist destinations/products of the Davao region.
KINILAW FESTIVAL


October 2

|
Surigao City
Different ways to prepare "Kinilaw" (raw fish delicacy) is the festivals main attraction. It also features the variety of fish, seafoods and other marine products in the locality.


PAGODA (Feast of St. Francis of Assissi)
October 4

|
Cardona, Rizal
The Pagoda or procession in the lake is annually held to ask the Lord Almighty for a bountiful and blessed lake through the intercession of St. Francis of Assisi. The Pagoda entourage consists of the main boat carrying the image of St. Francis accompanied by boats with musical bands to provide the music and other boats and/or motorized bancas carrying the religious residents and visitors.
SINANGGIYAW FESTIVAL

October 4 | Dumanju, Cebu

The name Sinanggi-yaw is taken from two old Cebuano words,

"Sinanggi"

meaning abundance of harvested agricultural products of our farmers and

"Sayaw"

meaning dance. Every year, the Sinanggi-yaw Festival draws together exhibitors, song, dance, and other cultural performances to give thanks for a full and good harvest.
LA TORRE

October 6 |
Cardona, Rizal

The traditional and colorful "La Torre" will come alive with its joyful poise in concert with the music of the brass bands.


FEAST OF OUR LADY OF THE HOLY ROSARY

October 7

| Dipolog City
Dipolog City fiesta highlighted with religious and cultural shows.
SIARGAO INTERNATIONAL HUMAN BODY BOARDERS SURFING CHALLENGE
October 7 - October 20
| General Luna, Siargao Island, Surigao del Norte
A new water sports event in the country participated by international body boarders. This is a world series event organize by the International Bodyboarders Association.


BAGLUS FESTIVAL



October 9

| Angeles City

Wide parade is participated in by representative by the different sector of Angeles City
LA NAVAL FESTIVAL

October 9 | Angeles City

October 12 | Quezon City

A celebration in honor of the Nuestra Señora del Santisimo Rosario.
FIESTANG KULIAT



October 10

| Angeles City

Fiestang Kuliat represents the resilience of Angeles City in Pampanga since the area was hit by the Mt. Pinatubo eruption in 1991 and after the United States Military base in Clarkfield was withdrawn.

In honor of the patron saint of Culiat, Blessed Virgin Mary of Rosary

.
TING'UDO FESTIVAL (Fruit harvest)

October 10
| Makilala, Cotabato

A celebration of bountiful fruit harvest highlighted by a fruit festival.


INUG-OG FESTIVAL



October 14

| Oroquieta City

It is a showcase of ethnic dances on the street as tribute to Oroquieta City's patron saint, Our Lady of the Most Holy Rosary.
KAPAKYANAN FESTIVAL



October 14 - October 15

| Victoria, Mindoro Oriental

Kapakyanan means abundance. The festival focuses on the bountiful harvest of fruits and crops. Its highlights are street dancing and a beauty pageant with agriculture as the central theme. Kapakyanan is a Mangyan term which means "kasaganaan" or abundance.
HALAD FESTIVAL



October 15

| Talisay City, Cebu

In celebration of the feast in honor of

Sta. Teresa de Avila

, the city comes alive with activities such trade fairs, nightly variety shows, civic parade and street dancing featuring city's famous products like lechon, cooking demonstration & food fair with tastiest lechon contest.
KASANGGAYAHAN FESTIVAL



October 15 - October 25

| Sorsogon, Sorsogon

Every October of each year, the Kasanggayahan Festival is celebrated in Sorsogon in commemoration of its foundation as a Province. It is a province-wide festival, with the center of activities in Sorsogon City.


SAGINGAN FESTIVAL

October 16 - 17 | Tubod, Lanao del Norte

A celebration of thanksgiving and bounty featuring the banana.
BUGLASAN FESTIVAL



October 16 - 25

| Dumaguete City, Negros Oriental

The main part will be in the Sidlakan Village but the whole City of Generator people will be in Festival Fever. The highlight of the Buglasan Festival 2009 in Dumaguete will be the streetdance contest in the morning of Friday the 23 followed by the Bugalsan Parade through the road-construction sides of Dumaguete City in the afternoon of the same day.
Click here for the schedules
LEYTE GULF LANDING ANNIVERSARY



October 17 - October 20

| Dulag and Palo, Leyte

Leyte Gulf Philippines annually witnesses the attendance of dignitaries coming from the U.S., Allied Forces, and Japan to attend the Anniversary of the Leyte Gulf Landings every October 20.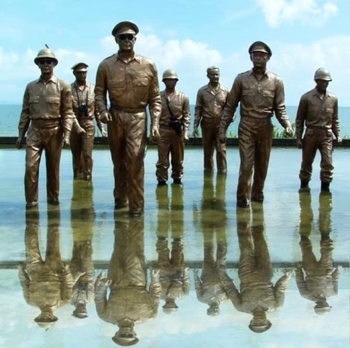 PAMUGU-AN FESTIVAL



October 17 - October 23

| Mansalay, Mindoro Oriental

A festive reunion of different "Mangyan" tribes.
ANA KALANG FESTIVAL



October 18 - 22

| Nagcarlan, Laguna

A roster-full of activities highlighting an agri-fair that exhibits the
town's bountiful harvest of Lanzones. The festival is named after

Ana Kalang

. A beautiful leader, allegedly saw the Virgin Sta. Ana, who took the poison out of the lanzones fruit so that it can be edible.


MASSKARA FESTIVAL



October 19

| Bacolod City

Bacolod City never seems to lose its luster, especially when Masskara celebration comes. The annual Masskara Festival Held in Bacolod City every October is a celebration which has earned for Bacolod the title "City of Smiles". This is Bacolod's biggest event that reflects the Bacoleños' love for fun and gaiety.
Click here for the schedules
LANZONES FESTIVAL



October 20 - October 24

| Camiguin

The Lanzones fruit is a major source of the Camiguin Islands' livelihood and it is for the annual
harvest that they celebrate this thanksgiving day.
Click here for the schedules
CATANDUNGAN "PADAYAW" FESTIVAL



October 21- October 23

| Catanduanes

Padadyaw is an old Catandunganon term which means to show one's best with pride and dignity coupled with excitement. Celebration of the province's founding anniversary, and a tribute to its founder, to continuously remind the people of Catanduanes of the province's independence from the province of Albay. Main features: street dance – Pantomina, beauty pageant, agro-trade fair, sports events, guided tours, photo exhibits, and more.
PMA FOUNDATION ANNIVERSAY



October 24

| Baguio City

Alumni homecoming of the country''s premier Military school
BATTLE OF SURIGAO STRAIT



October 25

| Surigao City, Surigao del Norte

Commemoration of the anniversary of the battle of Surigao Strait during World War II.


IBALONG FESTIVAL
October 25 - October 31

| Legazpi City, Albay
A festival depicting Bicol's early beginning as portrayed by
the characteristics in the epic entitled- IBALONG.
BANAYAN FESTIVAL
October 26- October 28

| Banaybanay, Davao Oriental
A thanksgiving celebration giving tribute to the town's main product.
ASWANG FESTIVAL
October 29- October 30

| Roxas City, Capiz
According to the festival organizer (

Dugo Capiznon, Inc.

): "We have

three main objectives for this festival

:

First

, to reverse the negative image of Capiz as a haven of aswang and remove the stigma attached to the word. We consider aswang simply a myth, with no factual basis. It does not exist except in the imagination of people.

Second

, to promote economic growth by helping small businessmen. We do this through trade exhibits during the festival.

Third

, to promote Capiz as a good tourist destination by highlighting its famous sea food products, fine beaches and other local scenery."
APO FIESTA
October 30

| Angeles City
Held every

last Friday of October

in honor of 'Apung Mamacalulu' or the Lord of the Holy Sepulcher.


HINUGYAW SA ANILAO



October 31

| Anilao, Iloilo

This is a celebration of the separation of Anilao from Banate, which also features various sports and cultural activities.